Registration now OPEN for DOSE VF Live Discussion October 6
RPPEO paramedics are invited to attend a live online discussion about the landmark "DOSE VF" study on October 6, 2023 at 10am. Register now for this event!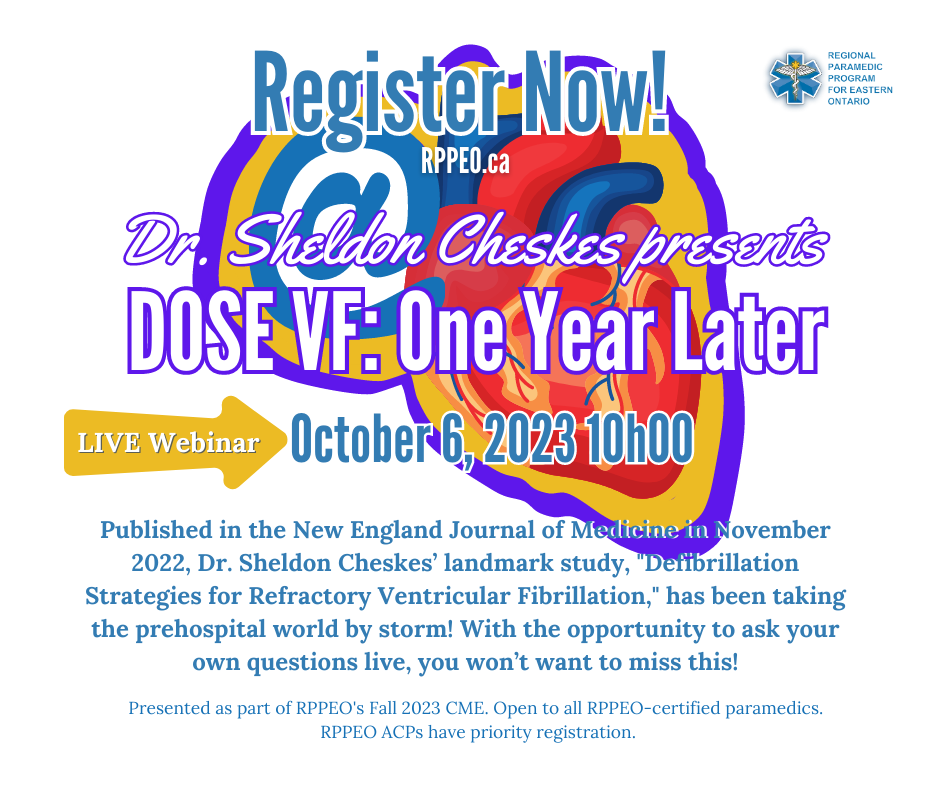 Dr. Sheldon Cheskes, principal investigator and lead author of the paper, Defibrillation Strategies for Refractory Ventricular Fibrillation published in November 2022 in the New England Journal of Medicine, will present a discussion of the research findings and applicability. Hosted by RPPEO Education Coordinator Zach Cantor, this one-hour session will give you the opportunity to ask your questions.
Dr. Cheskes is a Professor with the Division of Emergency Medicine, Department of Family and Community Medicine at the University of Toronto, a scientist at the Li Ka Shing Knowledge Institute at St. Michael's Hospital and an affiliate scientist at Sunnybrook Research Institute. He is the Medical Director for the Regions of Halton and Peel with the Sunnybrook Centre for Prehospital Medicine. He is one of the principal investigators for the Canadian Resuscitation Outcomes Consortium (CanROC) and is a recognized international authority in the area of CPR quality and out-of-hospital cardiac arrest resuscitation. Dr. Cheskes has published over 140 manuscripts in high impact journals such as the New England Journal of Medicine, Circulation, CMAJ and Resuscitation that have changed resuscitation practice around the world.
This RPPEO live event is presented as part of RPPEO Fall 2023 CME. Paramedics who attend the live event will receive credit toward Fall CME requirements. This year, ACPS are required to complete Fall CME. All PCPs are welcome to attend this event and any who are planning to complete Fall CME will receive credit.
Registration for the live event is limited and RPPEO ACPs will receive priority placement for registration. When registering, please include your OASIS# in the field labeled, "job title." We look forward to this discussion with you!
If you have questions about this live event or Fall 2023 CME, please email RPPEO at education@RPPEO.ca.