Fall 2022 CME Launches August 31
The Regional Paramedic Program for Eastern Ontario is pleased to announce the full lineup for your 8-hour Fall 2022 CME!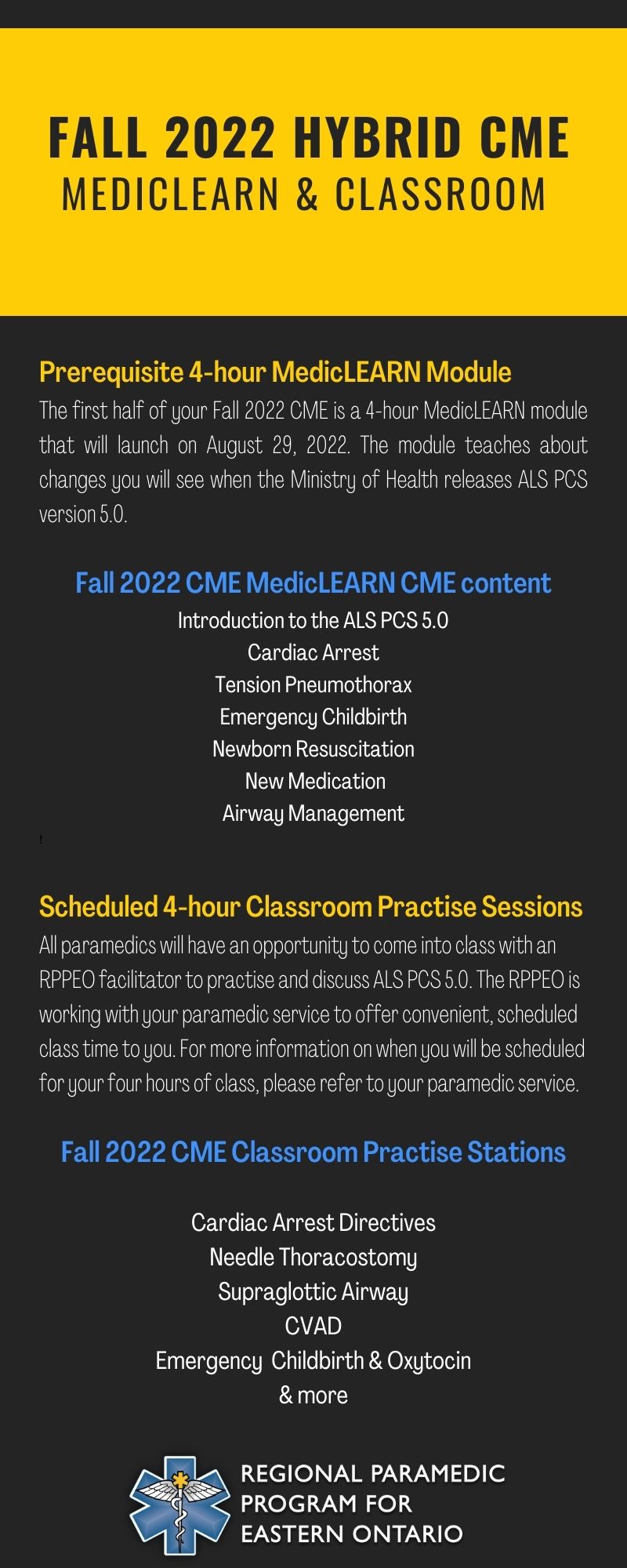 Beginning on August 31, 2022, RPPEO will introduce our paramedics to the many changes coming with the next iteration of the Advanced Life Support Patient Care Standards (ALS PCS) version 5.0. In Fall 2022 CME, paramedics will benefit from both relevant prerequisite learning materials, and a large block of class time dedicated to practising the interventions introduced in the ALS PCS update.
After discussion with paramedic services and paramedics, the RPPEO decided to create a truly hybrid learning model for Fall 2022 CME. We are using our online learning platform MedicLEARN to provide the physiology, anatomy and explanatory materials that will guide paramedics through the upcoming practice changes, as well as reintegrating some class time for hands-on practise.
RPPEO Fall 2022 CME is mandatory education for all Eastern Ontario paramedics as partial credit toward annual Maintenance of Certification requirements as described by the Ministry of Health.
You are asked to complete Fall 2022 CME on MedicLEARN before you attend a classroom session so that you will already understand the coming changes and be able to benefit from practise in the classroom setting. Your paramedic service will work with you to schedule you for time in the classroom following completion of the MedicLEARN content.
Click here to read the Fall 2022 CME Letter & Program for paramedics.