---
---
MedicNEWS for November/December 2023
In this issue:
A New Way to Correspond with RPPEO During Quality Reviews
Getting Ready for Your Maintenance of Certification Deadline
A Message from Your Medical Director About Safe Care for Complex Patients
Navigating Acute Behavioural Disturbances
New Elective CME Live and In Person
Putting the "Care" in Health Care
Your Base Hospital's Research Contributions Last Year
6 Perfect Prezzies for the Paramedics on Your List
Plus: see the new video on capacity and consent, reflect on case studies, and more in November/December MedicNEWS!
RPPEO's bi-monthly online news magazine for paramedics, MedicNEWS is your key to insight on the current issues in clinical practice for Eastern Ontario.
---
---
New Quality & Safety Correspondence Process
The Regional Paramedic Program for Eastern Ontario (RPPEO) is pleased to announce a new, more secure and efficient correspondence process for discussions of quality & safety and patient outcomes.
Beginning in November, 2023, paramedics will receive an automated email with a unique, encrypted link to correspondence about quality & safety reviews or new information about patient outcomes.
Using the link in the email, paramedics will login using your base hospital credentials. Once logged in, you will find the latest correspondence from the base hospital for your review and action.
Watch your email for your first correspondence using the new methods for correspondence!
---
---
Pediatric Seminar November 29
Enhance Your Pediatric Care Skills with this Expert Seminar on Trauma and Resuscitation in Ottawa on November 29
Join us on Wednesday, November 29 from 09h until 11h30 for a compelling seminar led by Jonathan Lee, an acclaimed Critical Care Paramedic and the founder of KinderMedic. Geared towards a diverse audience of healthcare professionals – paramedics, nurses, physicians, and more – this free seminar promises to elevate your knowledge and skills for managing critical pediatric trauma and resuscitation effectively.
During the session, Mr. Lee will delve into evidence-based concepts and key assessment findings crucial in pediatric resuscitation. Drawing from over 25 years of extensive experience in 911 response, critical care, aeromedical services, and pediatric critical care transport, Jonathan will also share insights on trauma for pediatric patients. These young patients often pose unique challenges, making this seminar a valuable learning opportunity for healthcare providers.
---
---
Trauma Day for Elective CME
RPPEO-certified paramedics are invited to participate in Trauma Day, an 8-hour intensive learning experience where you will learn and practise the latest techniques in trauma response and management.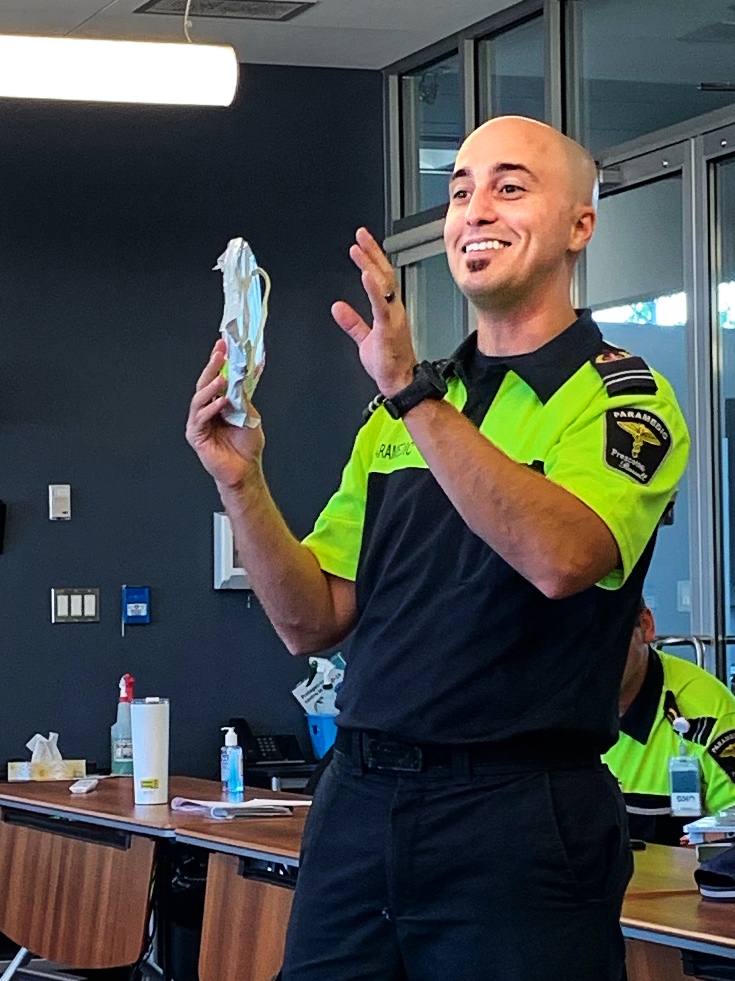 RPPEO has partnered with Prescott-Russell Paramedic Service to bring paramedics this focused learning opportunity. Trauma expert Eric Gagnon, ACP, will show you the latest information and concepts in trauma management in this hands-on class.
Trauma Day is being offered in Kingston on November 22 and in Ottawa on December 20. A limited number of spots are available. ACPs receive priority booking since the content focuses on advanced care concepts and techniques.
---
---
Fall 2023 CME Now Available
Paramedics participating in Fall 2023 CME are invited to complete the online module now available on MedicLEARN.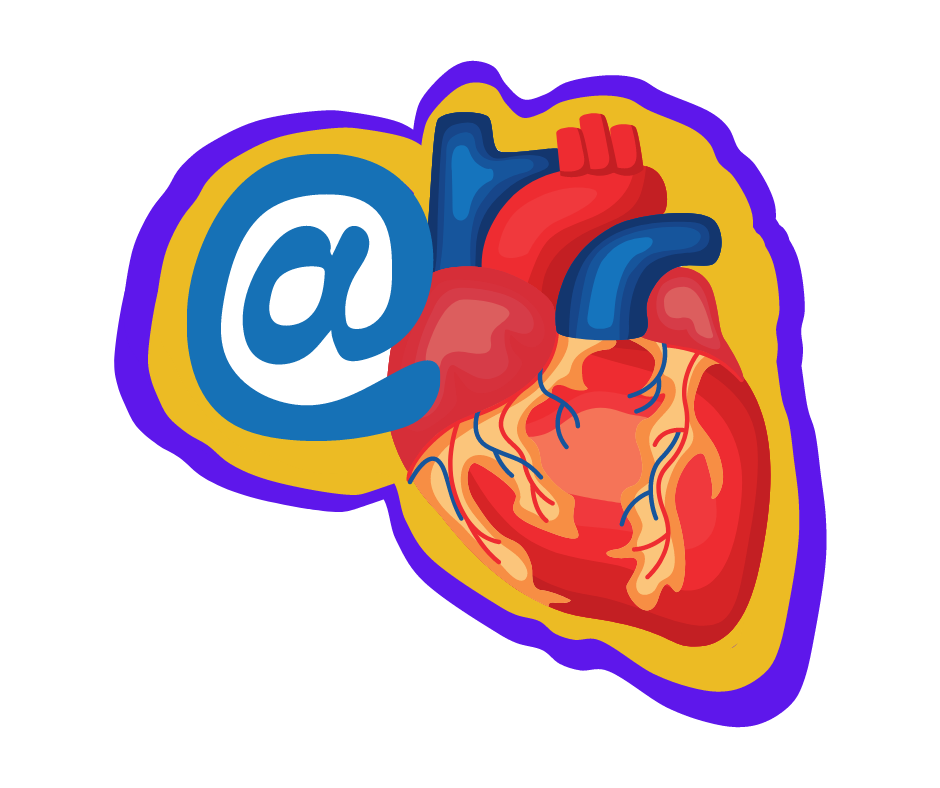 Under the theme "Matters of the Heart," paramedics will learn and practice skills related to cardiac care during Fall CME. The online didactic portion accounts for 4 hours of content and includes:
medical cardiac arrest management
tachycardia with a focus on synchronized cardioversion
bradycardia with a focus on transcutaneous pacing
STEMI and sex bias
Left Ventricular Assist Device (LVAD)
---
---
Fall 2023 CME Program
The RPPEO is pleased to announce the full lineup for Fall 2023 CME under the theme At the Heart of the Matter: Emergency Cardiac Care. Advanced Care Paramedics (ACP) certified by the RPPEO and Primary Care Paramedics (PCP) from participating paramedic services are invited to learn the latest evidence-based approaches and practise intervention skills for cardiac emergencies.
---
---
MedicNEWS for September 2023
In this issue:
Get the When, Where and What of Your Fall CME
Patient Choice, Ethical Practice and the DNR Conundrum in BHP Corner
Find Great Elective CME with RPPEO Live Events This Autumn in Continuing Education
Plus: be the first to see the new palliative care video, find more online electives, get our link recommendations, and more in September MedicNEWS!
RPPEO's bi-monthly online news magazine for paramedics, MedicNEWS is your key to insight on the current issues in clinical practice for Eastern Ontario.
---
---
Registration now OPEN for DOSE VF Live Discussion October 6
RPPEO paramedics are invited to attend a live online discussion about the landmark "DOSE VF" study on October 6, 2023 at 10am. Register now for this event!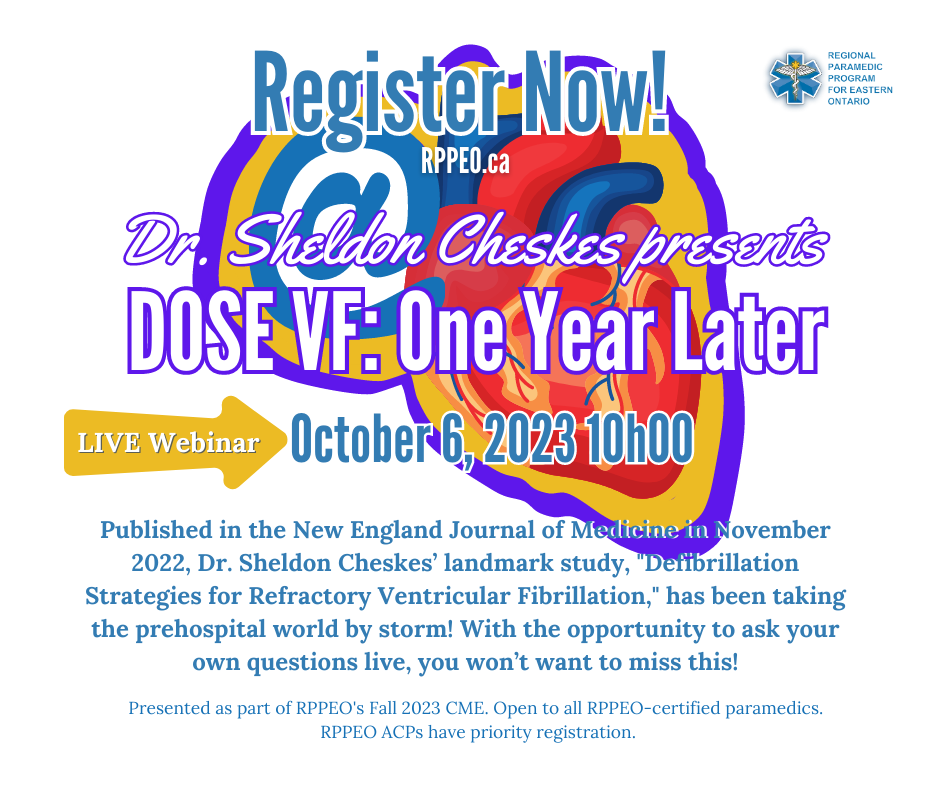 ---
---
DOSE VF One Year Later: Live Webinar October 6
RPPEO paramedics are invited to attend an online discussion about the landmark "DOSE VF" study on October 6, 2023 at 10am. Dr. Sheldon Cheskes, principal investigator and lead author of the paper, Defibrillation Strategies for Refractory Ventricular Fibrillation published last year in the New England Journal of Medicine, will present and host a discussion.
This live webinar is presented as part of RPPEO Fall 2023 CME. Paramedics who attend the live event will receive credit toward Fall CME requirements. This year, ACPS are required to complete Fall CME. PCPs are welcome to attend this event and any who are planning to complete Fall CME will receive credit.
Registration details are forthcoming.
---
---
RPPEO Fall 2023 CME Launches October 11
Fall 2023 CME for Advanced Care Paramedics launches online October 11, 2023.