Last update: May 13, 2020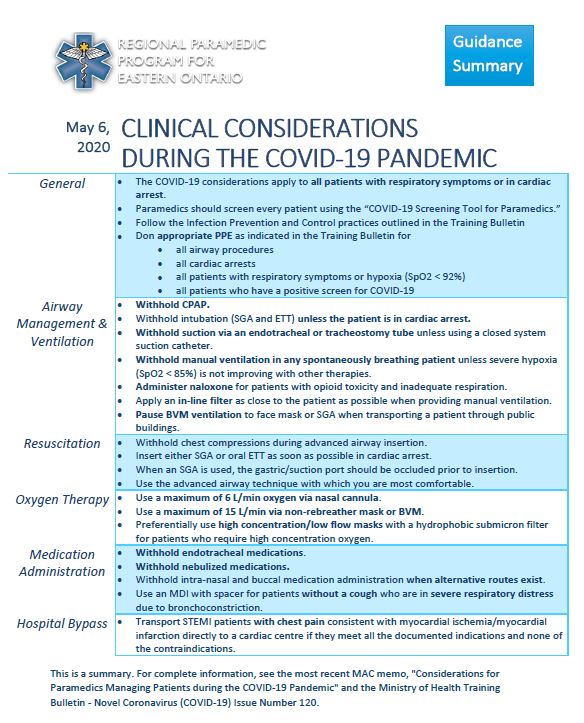 Read the latest issue of MedicNEWS! Issue 1.4 for May 18, 2020 goes into depth on COVID-19 issues important for paramedics.
As the pandemic progresses, the RPPEO will continue to promote the adaptation of clinical guidance as needed. The key considerations for us are paramedic safety and patient clinical needs. Evidence, including what has happened in other places or at different times, is what we are using to inform changes. The changes are coming in phases, based on the epidemiology of COVID-19 in our region and in Ontario.
We are very closely monitoring the pandemic. The RPPEO is looking to Public Health Ontario, the Ministry of Health and the Ontario Base Hospital Group - Medical Advisory Committee for their direction on clinical practice or moving to another phase of response. As soon as we have new guidance we will inform paramedics. If we find a need for specific guidance for our region - again, based on epidemiology and other factors in this region - the RPPEO's medical direction team is at the ready to provide clinical guidance for Eastern Ontario paramedics.
As always, we are counting on paramedics to provide the excellent, compassionate care that the public has come to expect. We realize that continuing to follow the Patient Care Standards while applying the additional considerations and medical direction is challenging. We are here to help. If you have any questions about the additional considerations issued to date, do not hesitate to reach out to us through MedicASK, by email or by calling.
We are answering paramedic questions as quickly as possible and updating answers regularly given the speed at which the pandemic is evolving.
Thank you for your commitment to paramedicine and your devotion to the patients who need our help during this exceptional time.
Click below for more on COVID-19